4 BHK starting 6.5 Cr
Penthouse available – Golf & City Facing – 11.17 Cr / 12 Cr.
The Crest at Phase 5, Sector 54 in Gurgaon – bearing the inheritance of DLF, this unparalleled project has kept the advanced features and amenities in synchronization that ensure the iconic lifestyle for each and every resident and give them the opportunity to bliss each day with different activities. It is the state-of-the-art addition to the luxurious condominiums located on Park Drive, DLF5.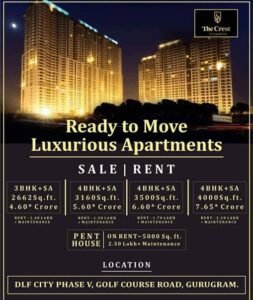 Located a short distance from the old golf course, DLF The Crest is a remarkable example of the impeccable amalgamation of classical and contemporary architecture that offers residents a beautiful lifestyle.
DLF The Crest, which overlooks the lush gardens in the style of a seaside resort, consists of 6 residential towers. They range from 247.30 square meters, at 373.65 square meters. (2662 Sq. Ft. To 4022 Sq. Ft.), each apartment is equipped with state-of-the-art facilities, spacious bedrooms, and a large private terrace.